Rally for ending 150 year-old-old ban on basic education in Punjabi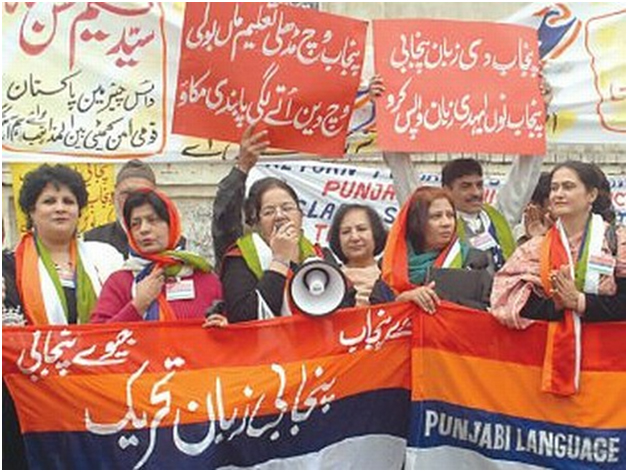 LAHORE –Feb 21 ,The Punjabi Language Movement has called upon the Punjab government to
introduce the basic education for the Punjabi children in their mother tongue just like the kids
in the rest of the world.
The PLM also staged a protest demonstration at the Lahore Press Club on Sunday against the
official discrimination of the Punjabi Language.The participants of the protest were carrying
banners and placards inscribed with slogans to end continuous official discrimination against
Punjabi language.
On the occasion, a number of other organizations including Punjabi Adbi Sangat, Khoj Garh,
Khaaksaar Tehreek, Saanjh, National Youth Forum, Maan Boli Research Centre, Punjabi Sangat
Pakistan, Punjabi Markaz, Sver International, Punjabi writers Forum, National Students
Federation, Punjabi Union, Pakistan, Punjabi Adbi Board and Punjabi National Conference joined
the protest.
Prominent Punjabi writers, intellectuals, supporters and activists including Taqriq Mahmud Jatala,
Dr Dilshad Tiawana, Ghazala Alam, Kausar Tiwana and Umer Mahota also participated in the
protest.
While addressing the protesters, PLM Convener Nazeer Kahut said: The 150-year-old undeclared
and unofficial ban on basic education in the mother tongue in Punjab must be abolished.He said
Punjab wanted its mother tongue back, demanding stoppage of official discrimination against the
mother tongue of 100 million people of Pakistan.
He further said that the constitutional, moral, legal, and democratic rights of the Punjabi people
were being usurped by the establishment and the integrity of Punjab was in grave danger.
Anti Punjabi language forces within the establishment and the rulers are hampering the imple-
mentation of the Punjabi as the official, academic and legal language in the Punjab, he added.
Kahut said it was the natural, legal, constitutional, democratic, moral and birth right of the Punjabi
nation to speak, read and write their mother tongue as the language of its education and literature.
Talking about the proposed national language constitution amendment bill 2011, Nazeer Kahut said
the bill with its highly divisive nature and controversial contents was potential threat to the very
existence of the country.He further said it might push the country into an endless and large scale
ethnical and lingual conflict.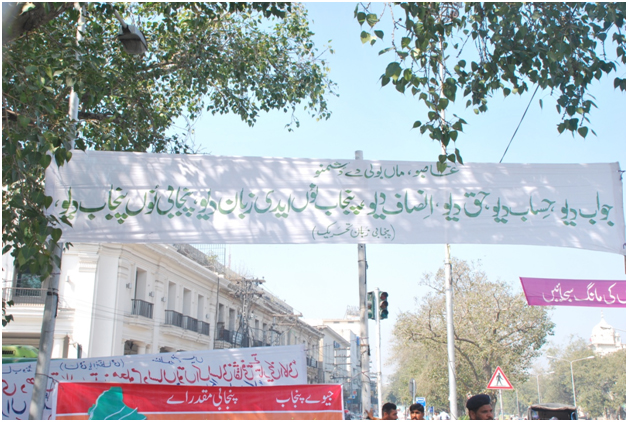 The proposed National Languages Bill either be withdrawn or re-written as it is not acceptable for
Punjab in its present shape.Sindhi, Punjabi, Pushto and Balochi being the majority language of
the federating units should be declared as the national languages of Pakistan, he added.
On the occasion, Kausar Tiwana said that no language could survive without the official patronage
and time had come for the rulers to give its due rights to Punjabi language.
She said the Punjab based politicians, political parties and rulers not played their role to promote
the Punjabi language.She further said that Punjabi was language of the Sufi saints like Baba Farid,
Sultan Bahu, Khwaja Farid, Shah Hussain, Bulleh Shah, Waris Shah and Mian Muhammad akhsh
who spread the word of God in this beautiful language through their poetry.
On the occasion, PLM delegations from Jhang, Sargodha, Multan, Sahiwal, Jehlum, Bahawalpur,
Mianwali, Khushab, Gujarat, Faisalbad, Rawalpindi, Attock Bahawlagar, Nankana Saihb and Dera
Ghazi Khan also attend the protest
Curtsy : The Nation:Feb 22,2011